Unlearn Your Anxiety & Depression Book
DO YOU SUFFER
from anxiety or depression?
Despite skyrocketing numbers of people affected by these conditions, current medical treatments are deeply flawed and often simply don't work. This book offers a different way to understand and overcome your anxiety or depression.
Cutting-edge research shows that stressful or traumatic life events can create patterns in the brain that may be advantageous at first but, in the long run, can pose barriers to achieving emotional health. Dr. Schubiner has developed a unique program to help you understand whether this model applies to you and guide you to reverse these patterns that have led to anxiety or depression.
NOTE: If you are interested in an eBook version, with no shipping charges, you can find one on the Amazon/Kindle or the Apple reader platform.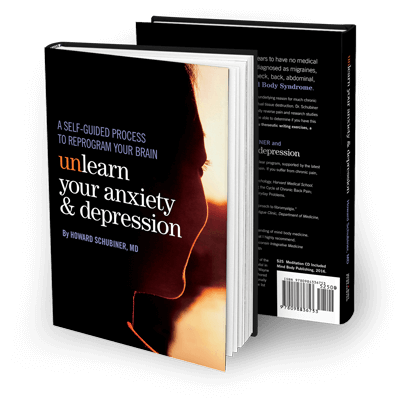 The program in this book will guide readers through a step-by-step approach to recovery. The techniques that are used include a new understanding of their symptoms, powerful behavioral interventions, emotional processing, therapeutic writing, meditation, and everything else needed to unlearn anxiety and depression.
Unlearn Your Anxiety & Depression